Hi guys, names Cameron, from West Yorkshire this is the first project ive ever done on any motor vehicle. I did level 1 Car mechanics but didn't learn much ( that i can remember)
My plan WAS to put a Single sided swinging arm, new subframe and USD forks on. But due to moving out, baby and other things ive settled for the SSSA, rewelded subframe and the normal forks.
Here is my journey so far.
This is what it started life out as, A track bike which had been trashed + dropped twice on the track and then stored for 1 year or more.
Taking a look under the "hood"
I attempt to fix the brake sticking problem the last owner told me about.
I find the pistons seized and shoes are close to dust. I replaced all the pistons and got them all sorted. (No pics of the new ones yet.)
This is the broken stater solenoid, i have since replaced this and it turns out it's not the problem, im guessing the previous owner had a remote start on the bike as theres wires for it because the ignition button does not work.
Previous owner came off on a corner and bent the exhaust to shit and sheared and seized in the downpipe bolts. Still trying to fix this
might even buy a new engine if its cheap enough.
My new SSSA and old exhaust with the lazer can, i will be cutting down into a stubby
Took me a hour trying to get the back wheel off as everything is rusted to oblivion. Penetrating and hammering until i finally prevailed!
After the back wheel was removed i started to remove the swingarm... BAD IDEA. The whole shock linkage is extremely rusted in, im either going to have to buy a new bigger ratchet, get some heat on it or saw through it.
Finally got the shock linkage off, i cannot remove the bolt securing the dog bones but the rest came off
blowtorch ftw!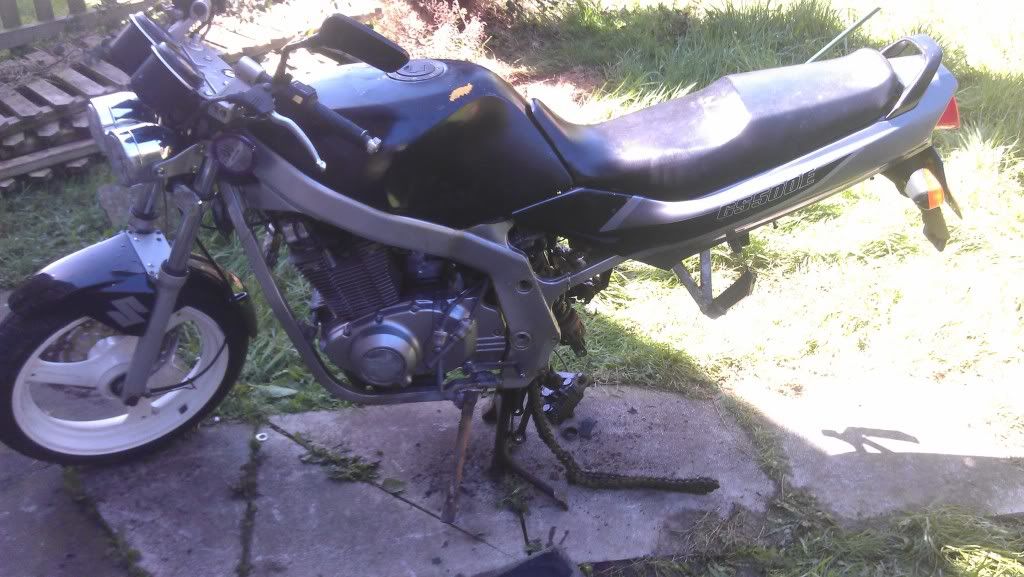 The SSSA i have is slightly too big for my frame, by roughly 2MM. so ill take it down to the fabricator when ive got some spare time and see if he can mill the sides down. I also put my refurbed brake caliper back on the front, seems the braided hoses wont reach now though :p going to have to attach the hoses first and then attach it.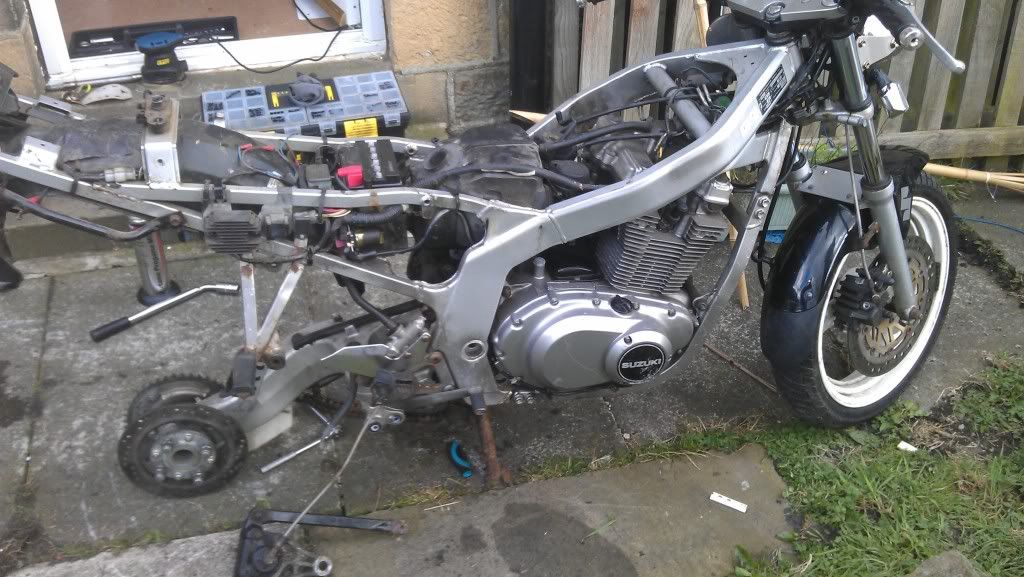 Got some longer braided hoses today
buying them in red when the bikes being sprayed though
Thought i would check the air filter today, maybe clean with some compressed air i bought... Better be some powerful air to blow rust off...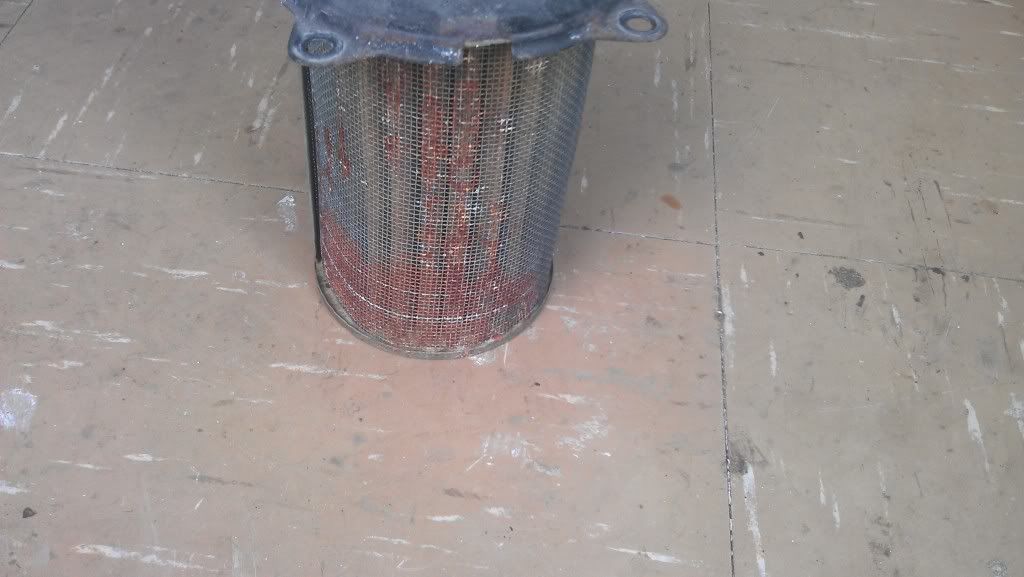 Ok the SSSA is around 1 inch too big, going to have to machine that down. comparison:
Pulled back the rubber today to find the most amazing thing ever! A broken clutch lever and snapped bolt that keeps it tight, so thats a new assembly + cable i need to buy.... Well atleast you can get them in red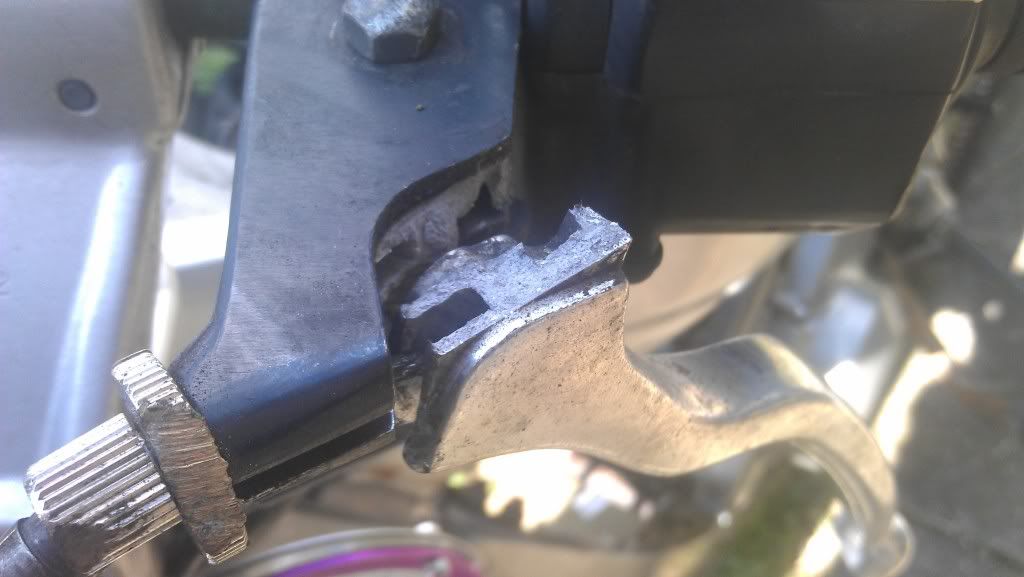 Wanted to check my front sprocket? (sure theres a name for it like on a BMX etc? chain drive?) there was like 3 years worth of shit inside it.... I need to invest in a jetwasher, the degreaser isn't working! it's almost rock solid dirt.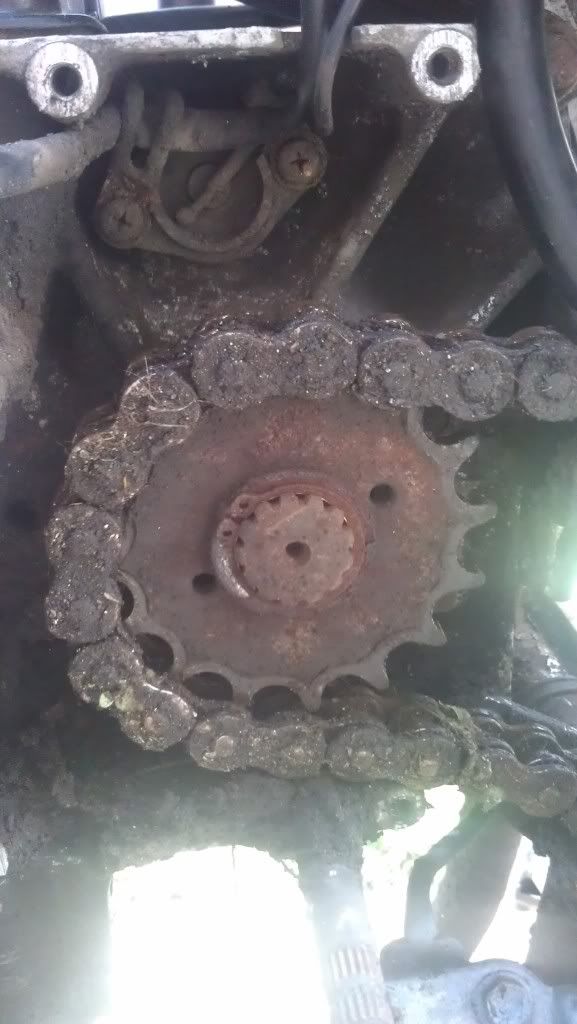 Ive spent 3-4 hours trying to remove my engine... No joke, the bolts are seized in.
Ive started sanding down the tank, which is full of rust
but i was thinking about buying a nice new 2001+ model tank for a new seat to sit on.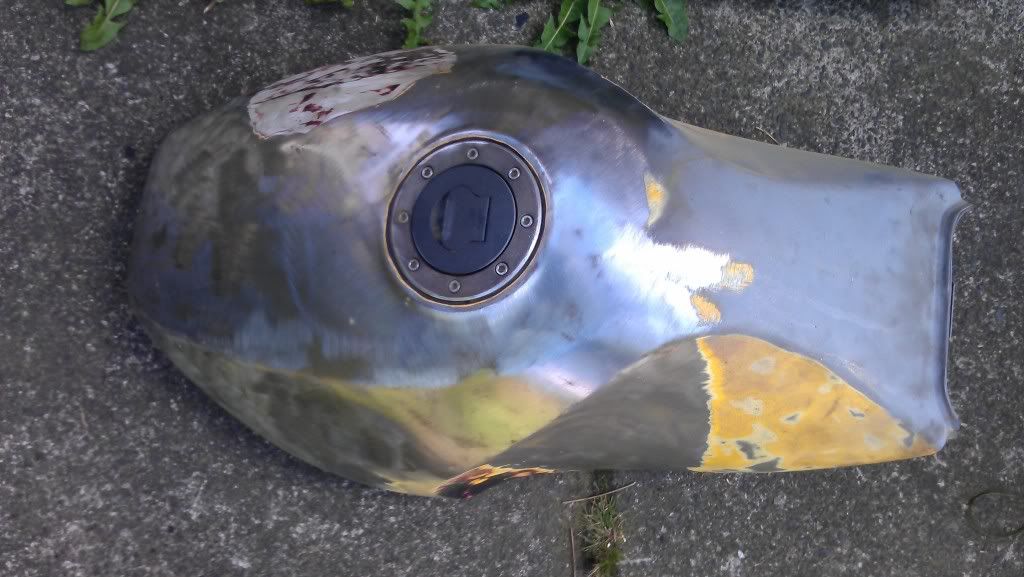 I took the carbs, air filter box and wiring loom out to reach the engine.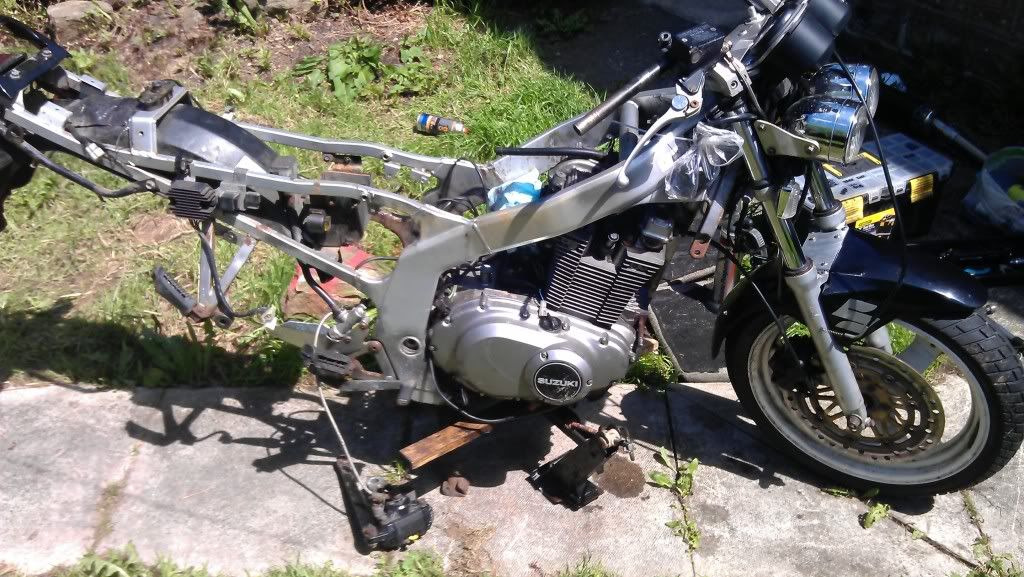 This is the bolt that has thwarted my attempts to remove the engine... So i brought the saw out.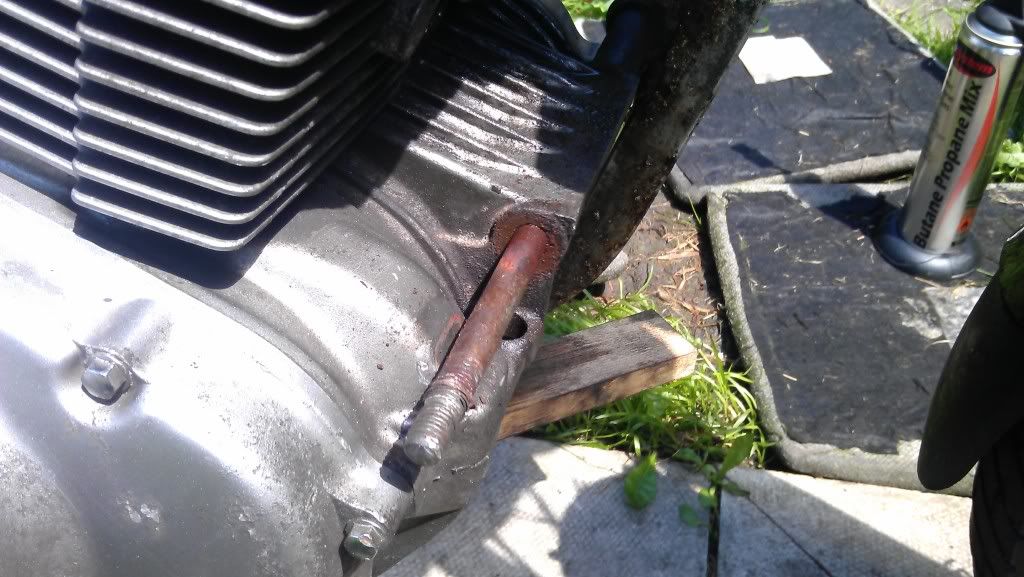 A nice pic of the seized rusty rear brake
good job i dont need that!
The snapped off tach cable ( deiced to go with a single tiny speedo just to abide by our laws.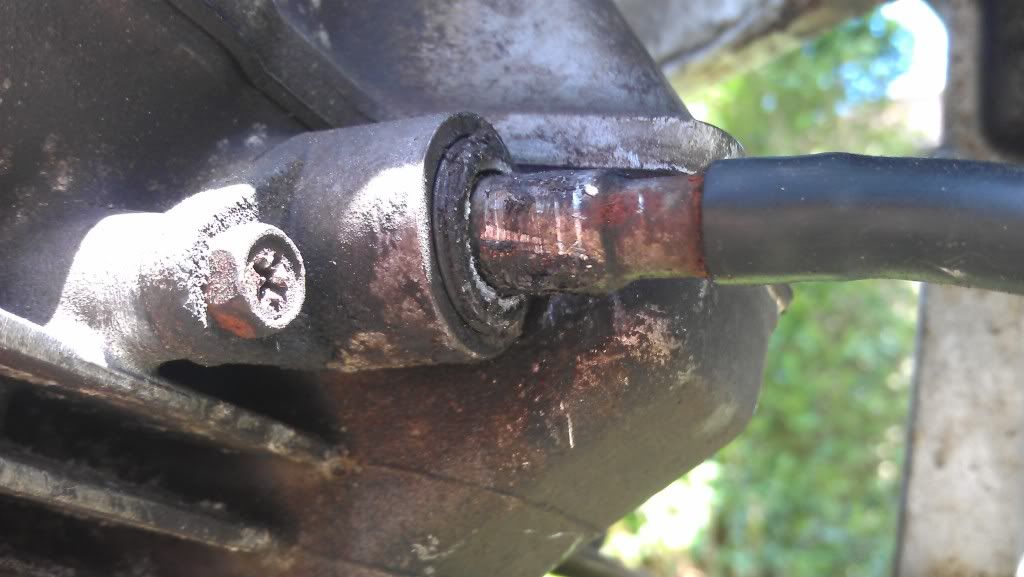 The front end light damage that came with the bike.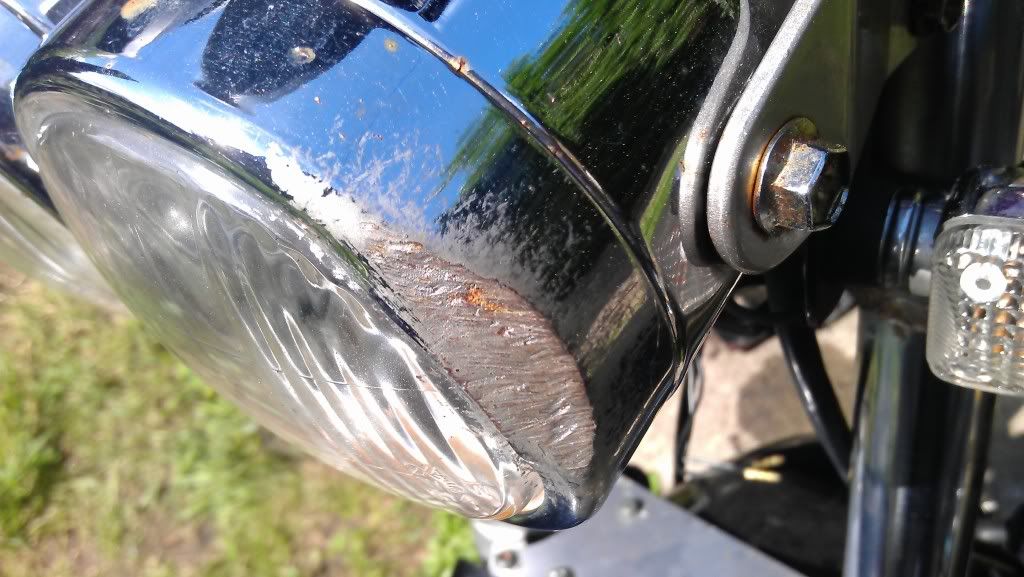 The moment ive spent 4 hours+ working towards! Im smiling really hard atm
means i can get the seized manifold bolts out and get the frame sorted for the SSSA.
In the hard process of removing the engine i snapped off a ignition coil... I also broke my brake lever in the struggle! (Worth it!)(Or was it, they are like £20
)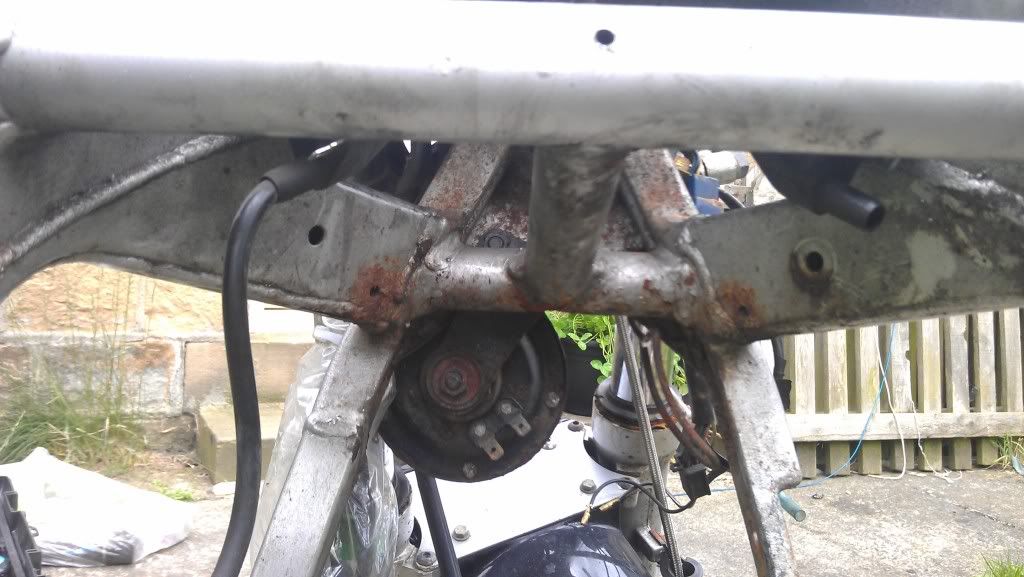 These are all pictures of how the SSA sits using the GS shock (which is too big by 2mm!)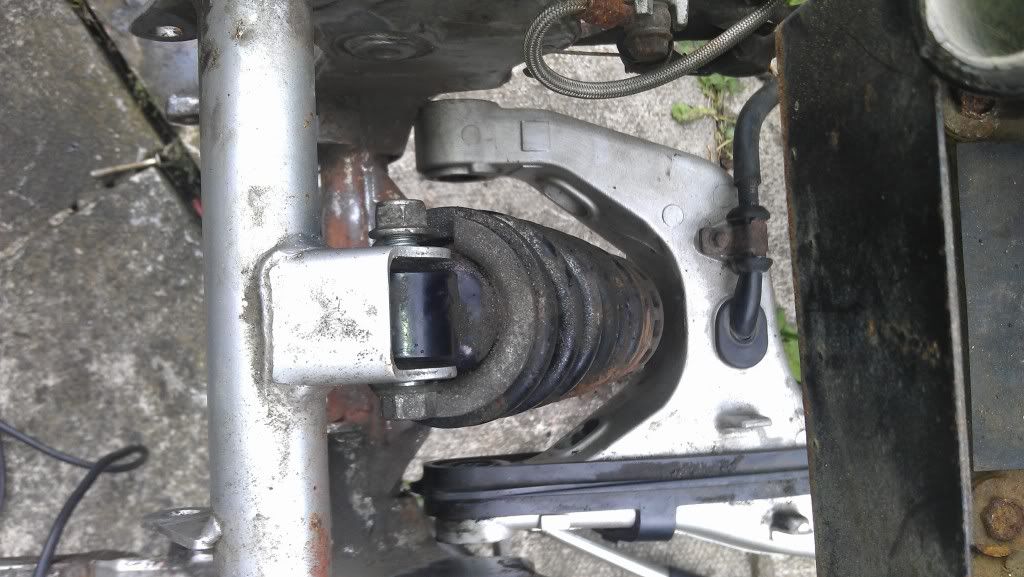 The guy who was getting my seized manifold bolts out said he would no longer do them because if he drifted with the drill bit he would owe me a engine and didn't want the hassle. So i went and spent £40 on some new longer, stronger and bigger tools!
Still got the problem of having the front engine bolt seized in though
After going to work on the engine with said tools here are my results:
Valve cover off! them bolts were way too tight, obviously not to torque.
Just a picture to remind me where they were when i removed the camshafts.
After the removal of the camshafts i started to remove the shims and followers, I placed them in seperate bags detailing the letters from where they came. I also kept the chain tight so it didn't bind or get lost in the nether of my engine.
Havent taken a picture of the header removed yet but it took a slight pry with the back of a hammer, i took care not to damage the fins on the engine. Ive bought all new o-rings for the bolts holding the header in. After taking the cyclinder head to the spark eroders for removal i had to pay them £60
but all is good and the bolts are free!
Well i took all the front end off today, was the easiest thing for the whole bike!
I then removed the right side footpeg which was stuck in, Still need to drill out the screws that hold the rear brake line as the screws are rounded off
Really struggling with this swingarm though, it doesn't fit and the linkage is backwards from the GS.
This is how the Swingarm sits without being in position.
Where is would sit if it was in position.
Just need a new subframe welding (need this pristine 08 tank first) Then onto powder coating and rebuilding the beast.
My new tank arrived ages ago but didn't update so here's some pics for you all
Yes there's a slight dent in the side ill get that sorted later on.
While waiting for my little son to arrive i did some work to my workhorse the Lexmoto Street 125:
I replaced the o-ring and made a gasket, then i noticed another small leak coming from the clutch side bolt so i bought a new gasket for that and replaced all that. Just needs a stronger mid stand (got a spare ex-500 one) as mine always droops.
The exhaust was originally "chrome" and by chrome the chinese must mean something else because that thing rusted in no time.
Due to making some serious modifications to my frame for a better swingarm i bought a spare frame to do a little testing. I also bought a EX-500/GPZ500 frame, swingarm and shock for £10 delivered so thats sat in my garden for no real reason.
This is my new single sided swinger
Wheel colour will be changed :p
I got my cyclinder head from the sparky eroders and i rebuilt the engine. Did a bit of clean up first. It actually came back from the eroders a while ago just i didn't have the gaskets to put it back on.
I still need to sort the valves out because they do not look healthy
1 of the worst things ive done. Trying to get the cam chain on correctly, woodie from GS500e.co.uk helped me identify some shims that i didn't put back on because they wouldn't fit so i have a feeling i will be opening it back up to put them back.
Engine is rebuilt
Still looking for a way to clean the whole engine up as it's dirty as hell and has oxide on the cooling fins.
My old swinger with a new showa shock and the dogbones
I also got the front seized in mounting bolt out
ordered some new ones from america and will have the sizes of all the engine bolts so if people need replacements they can order some from a bolt shop.
Only found 1 of the bolts in stainless so far and the others in high tensile black crappy rustable coating.
Im receiving a seat tomorrow and a angle grinder to modify the frame.
I had a spare hour before work so I tried to make the ninja seat fit on my bike
As you can see it doesn't sit properly on the frame and tank
There's some bobble on the edge that seats on the tank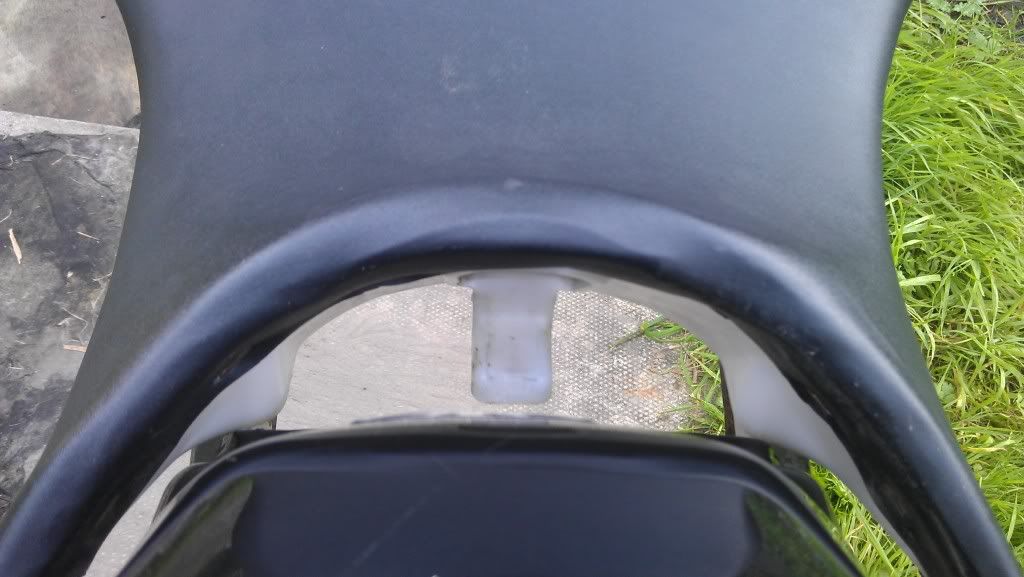 First thing I did was hacksaw the bobbles off lol but then I thought let's do this properly
I started marking where needed reducing for a good fit.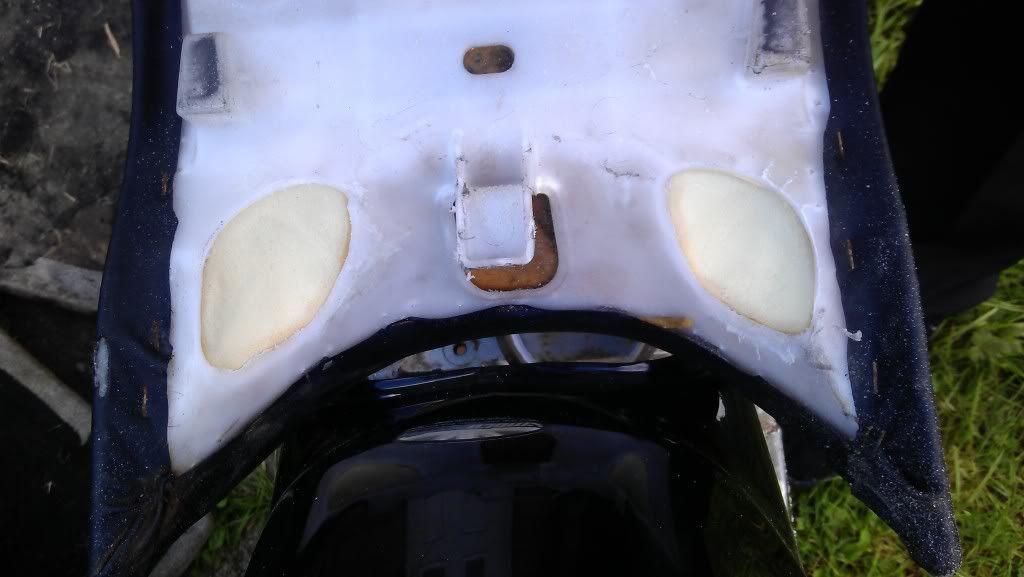 After finishing sanding it down it sits either flat or slightly upright depending on how I need it for the mot to view my plates.
Just going to use the stock seat catch and attach the stock seats locking mechanism to the ninja one.
After another 3-4 days of waiting i had another spare 30 mins so i brought a few tools from my house to my mums where half of this bike is kept to do some work on the seat.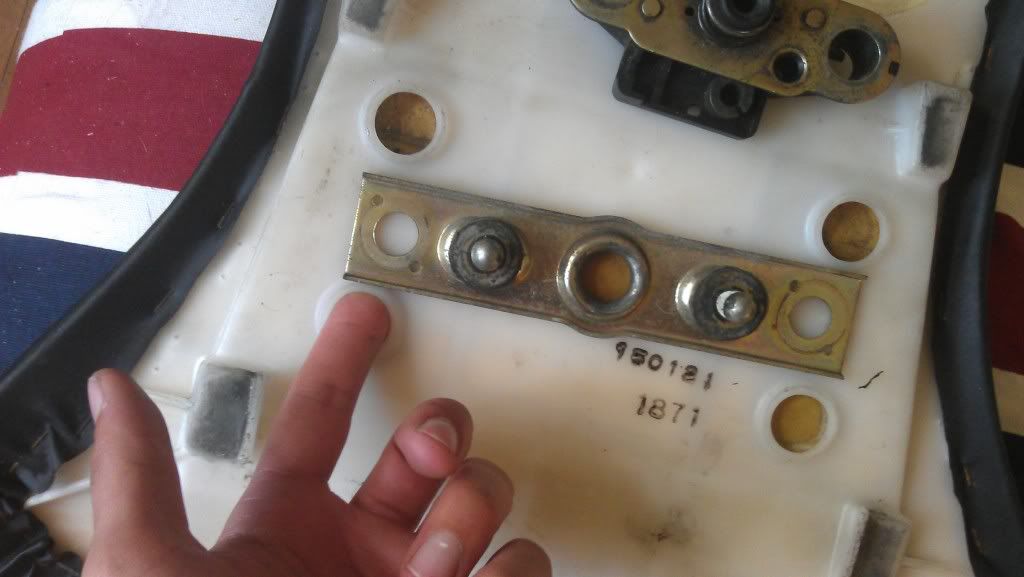 I wanted the locking plate to sit alot further back but with the actually seat lock catch on it wouldn't sit without being placed over one of the holes.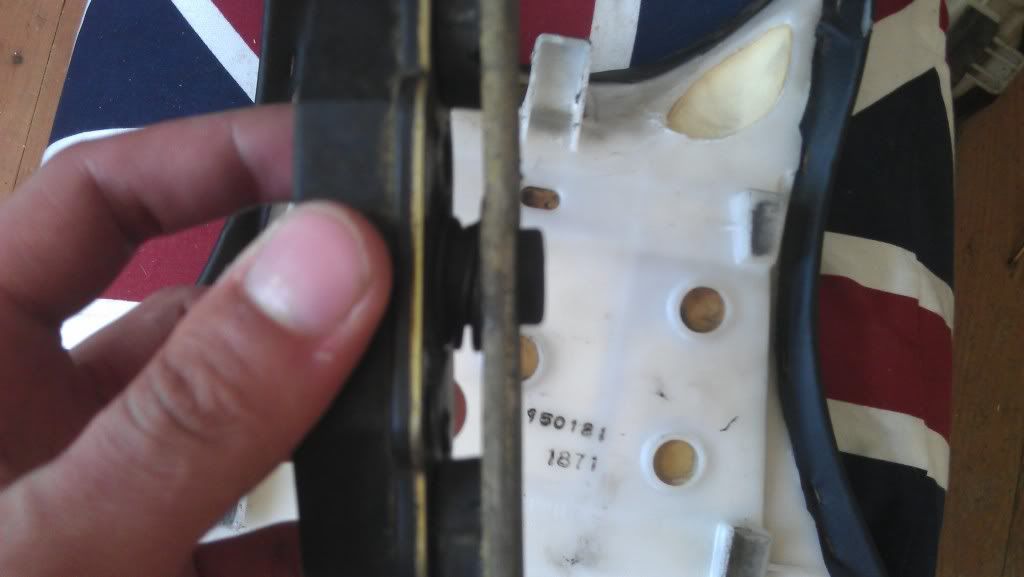 Having limited tools i drill holes using a screw bit and use some stainless bolts i had that were supposed to go back in my bike :p
to get the nuts in i had to jam my fingers into the foam and force the nut into position so the bolt would connect.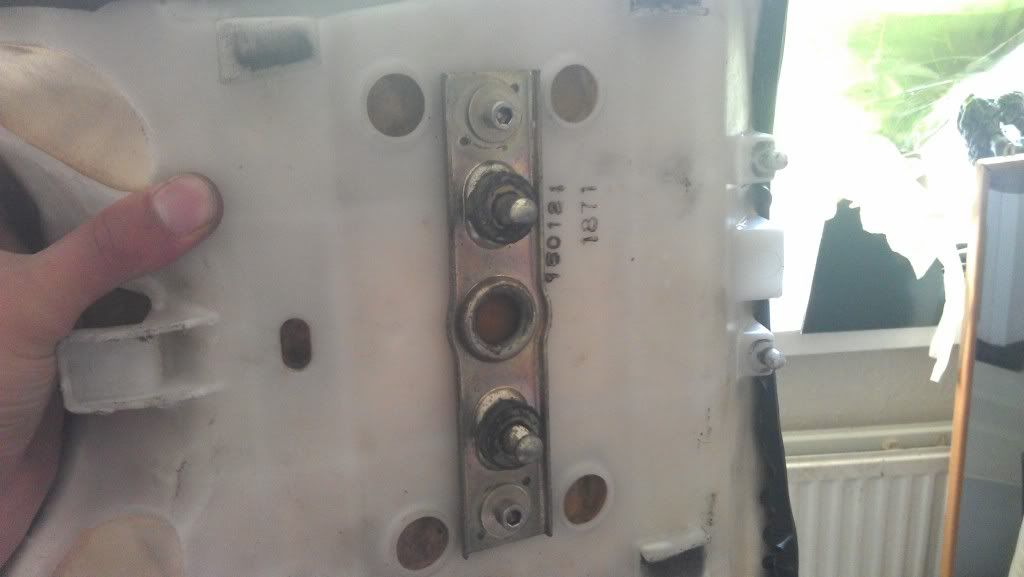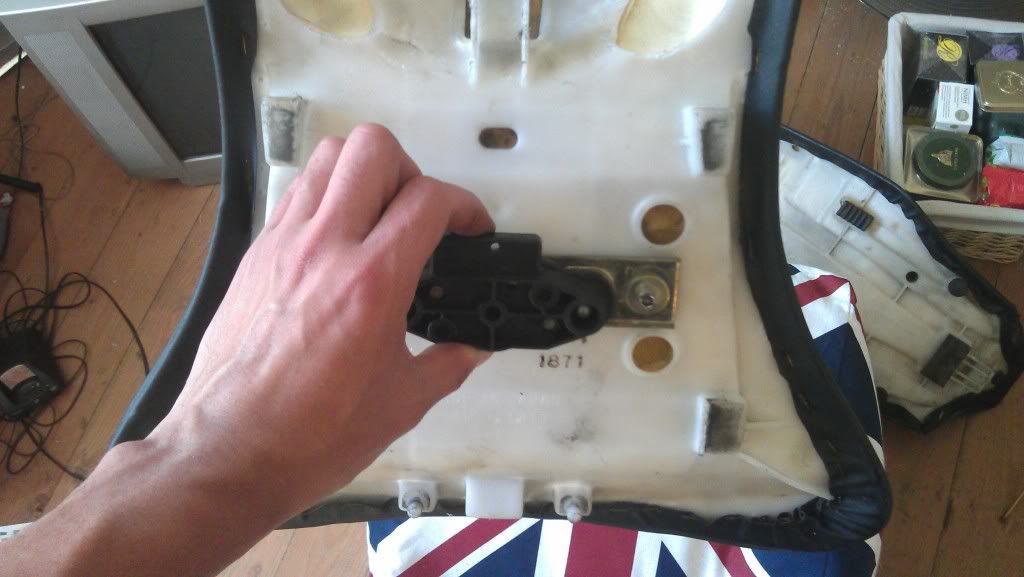 TADAAA it stays in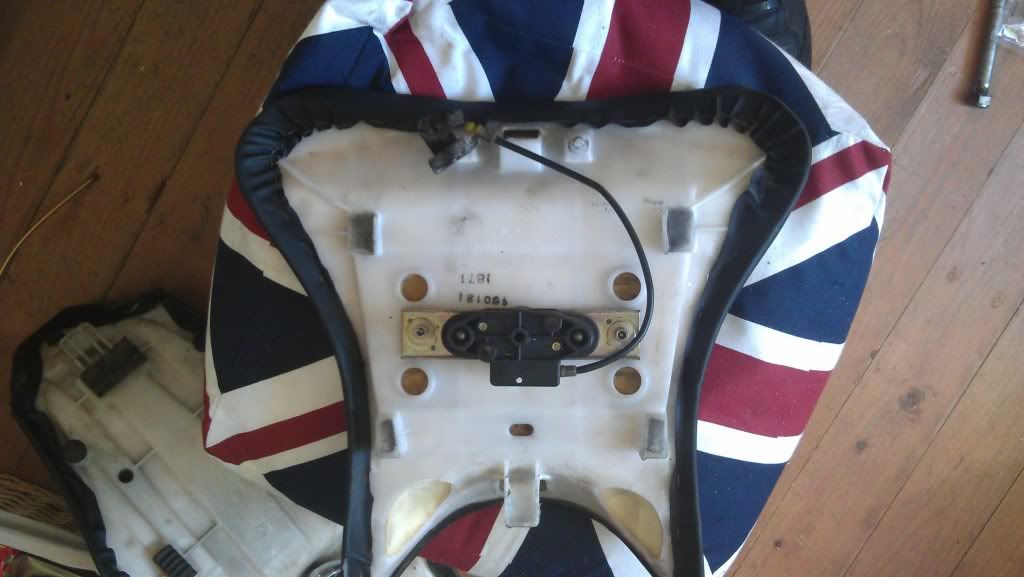 Finished product
Thanks for reading guys, ill update when i do certain things but due to moving out next week and spending all our money on carpets, sofas, washers etc i wont be working on this bike for a few months. Also got my test booked in oct
I would like to thank the people at
Customfighters.com
GS500e.co.uk
GStwins.co.uk
for their help with little things that confused me.
If your interested in bikes and want to chat with a few of us dont hesitate to say hi